The Tokai-to-Kamioka Neutrino Oscillation Experiment
(The Internal T2KUK Page | Collaborators can Edit this page)
T2KUK Home Page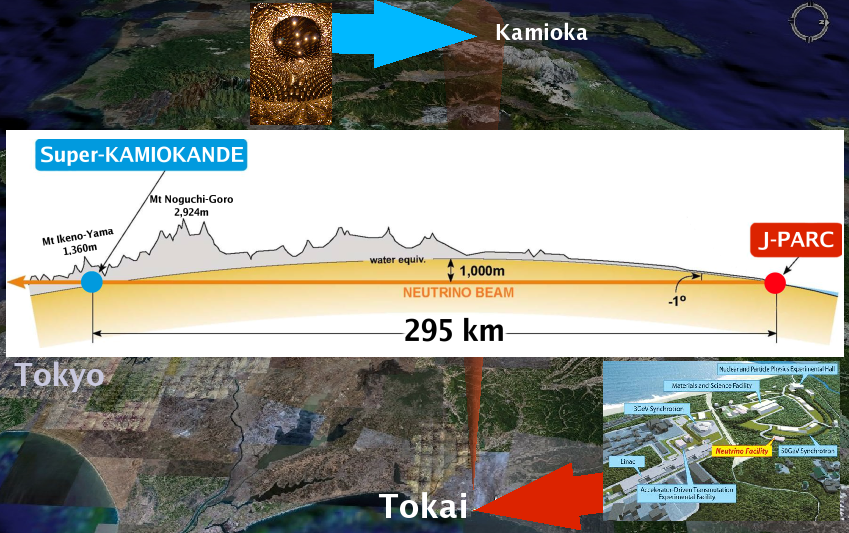 UK Collaborating Institutes
University Groups
STFC National Laboratories
The T2K Experiment
The T2K project began data-taking in 2009 and has the primary goal of measuring for the first time a third type of neutrino mixing (related to the parameter theta13), which would result in the appearance of electron-type neutrinos from a beam of muon-type neutrinos after they have travelled 295 km across Japan.
T2K is the first of the "next generation" of oscillation experiment designed with very high intensity neutrino beams. The T2K "far detector" is the tried-and-tested Super-Kamiokande 50 kt water Cherenkov detector, and the beam is optimised to enhance the oscillation signal and to suit the energies at which Super-Kamiokande can best measure the incoming neutrino type and energy. Both the beam and the way its neutrinos interact with water must be very well understood for an oscillation discovery to be made, and a "near detector" will be positioned a few hundred metres from the beam origin to make measurements on the beam before it starts oscillating.
Results and Publications
First Electron Neutrino Appearance Result (June 2011)
T2K ran for many months between late 2009 and March 2011. The data taken then were carefully studied, and on 15 June 2011, we announced our first measurement of electron neutrino appearance from the muon neutrino beam after propagating 295 km. The bottom line is that we saw what might be the sign of electron neutrinos appearing at a high rate, which is very positive news for using neutrinos to understand more about the origin of matter—but we need more data to be certain.
We are working hard to restart the experiment after the damage caused by the earthquake which forced us to shut it down on the 11th of March 2011.
First Muon Neutrino Disappearance Result (?)
Watch this space....
Experimental Description
Most advanced experiments such as this publish a detailed description of the equipment and methods used, so that other physicists can learn from them, and also so that they can interpret our results more accurately. A preprint of such a paper for T2K can be found at
UK Involvement in T2K
Near Detector Electromagnetic Calorimeters
J-PARC Proton Beam Target and Beamline Design
Near Detector Electronics and Data Acquisition
Photosensor Studies
Physics Studies and Offline Software
Proposal Documents
Other Links